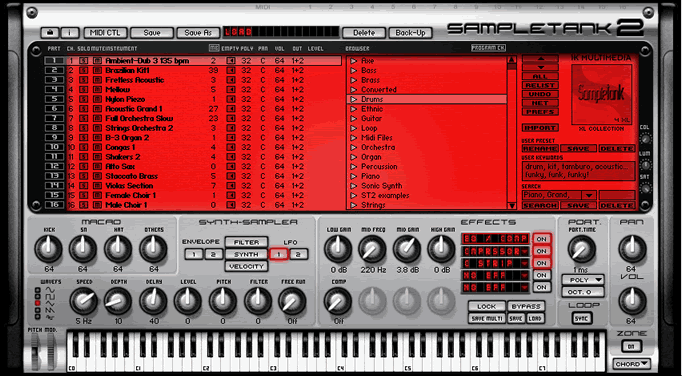 ¿Qué tiene SampleTank que lo convierta en algo tan especial?
- 3 motores de síntesis: la exclusiva STRETCH(tm) (SampleTank Time REsynthesys TeCHnology) y síntesis con cambio de tono /corrección de tiempo además de la tradicional síntesis por resmapling.
- Acceso rápido a los sonidos más ricos, amplios y realistas que nunca se hayan producido en un instrumento por software o hardware
- Miles de sonidos nativos actualmente disponibles, además de la habilidad de importar ilimitados archivos en formato WAV, AIFF, SDII, AKAI(R), y SAMPLECELL(R)
- Más de 30 efectos de alta calidad integrados
- 16 partes multitímbricas
- Control completo del motor de síntesis / sampling
- Edición por zonas, sincronización de loops, portamento, búsqueda por palabras clave y más...
The first plug-in sound workstation.
Features a revolutionary new synth engine called Stretch and offers full control over all the basic components of sound (tuning, tempo, and harmonics) to make virtual instrument music that is incredibly rich, vibrant, and natural. Stretch also expands sonic capabilities with full control over an instrument's basic frequency distribution to tailor tone and push the limits of creative sound designing to an entirely new level. Includes over 1.8GB of Instruments and Sounds.
IK Multimedia SampleTank 2 L Virtual Instrument Software Features:
* 3 different synthesis engines, including traditional resampling, pitch shifting/time stretching, and the Stretch synth engine, can all be switched on the fly for maximum flexibility
* Completely redesigned synth functionality provides full control over every parameter of the synthesis chain for precise tuning of every instrument's parameters
* New mix panel and redesigned graphic user interface allow lightning-fast access to mix parameters for easy, streamlined work flow
* Exclusive enhance multi-effects now include more than 30 effects with 5 selectable per voice
* New efficient management of effects allow greater CPU performance
* Fast and easy to expand with enhanced capabilities that allow you to import audio files in a flash and build single and multisample banks with ease
* Imports WAV, AIFF, AKAI, and Sample Cell fast
* Multisampled banks deliver amazing realism and superb, detailed texture, even for acoustic instrument sounds
* Powerful formants manipulation reveals more detailed texture on every sample-based instrument
* Full control over loop banks for instant creative power
* Includes over 1.8GB of Instruments and Sounds
Descagar:
RapidShare: Easy Filehosting
LIBRERIAS
bass
:
RapidShare: Easy Filehosting
brass:
RapidShare: Easy Filehosting
drums:
RapidShare: Easy Filehosting
RapidShare: Easy Filehosting
Ethnic:
RapidShare: Easy Filehosting
expasion tank:
RapidShare: Easy Filehosting
http://rapidshare.com/files/11429283...anks.part2.rar
guitar
:
RapidShare: Easy Filehosting
Instrument and Vocal Licks:
RapidShare: Easy Filehosting
Loop:
RapidShare: Easy Filehosting
RapidShare: Easy Filehosting
Miroslav Orchestra Perf:
RapidShare: Easy Filehosting
http://rapidshare.com/files/11449299...Perf.part2.rar
http://rapidshare.com/files/11449760...Perf.part3.rar
Orchestra:
RapidShare: Easy Filehosting
http://rapidshare.com/files/11451455...stra.part2.rar
Organ:
RapidShare: Easy Filehosting
Percussion:
RapidShare: Easy Filehosting
Piano:
RapidShare: Easy Filehosting
RapidShare: Easy Filehosting
Sonik Capsules:
RapidShare: Easy Filehosting
http://rapidshare.com/files/11468483...ules.part2.rar
http://rapidshare.com/files/11468806...ules.part3.rar
strings
RapidShare: Easy Filehosting
RapidShare: Easy Filehosting
RapidShare: Easy Filehosting
soniksynth2
RapidShare: Easy Filehosting
Synth
RapidShare: Easy Filehosting
vocals
RapidShare: Easy Filehosting
RapidShare: Easy Filehosting
RapidShare: Easy Filehosting
winds
RapidShare: Easy Filehosting
NOTA: Este plugin nolo subi yo este aporte fue gracias a Dj$oda
Pass: Dj$oda
Disfruta la descarga y saludos ! no olvides compartir en tus redes sociales y ayudarnos con un like